Swiftec's Mineral Engine Oil
Swiftec's Mineral Engine Oil Range gives you 15W & 20W quality engine oil 
SWIFTEC is a superior quality  ESMA Certified Engine oil produced from selected semi-synthetic and highly refined base oils blended with modern high technology additives to meet the stringent lubricant specifications of recent high speed  and high output engines.
Benefits of Mineral Engine Oil
Highly effective detergents and dispersants keep the engines clean to the highest possible level.

Oil film is highly stable even at higher temperature and severe operating conditions

Optimum lubrication controls the engine wear effectively and maintains the performance.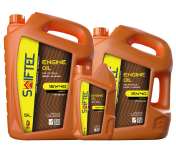 Applications:
Recommended for recent ultra high output and high speed engine of cars, vans, trucks and other vehicles either turbo-charged or naturally aspirated, running on diesel, gasoline and LPG fuel.
These oils are also recommended for four stroke high performance engines used in mode construction and mining machine parks.
Higher thermal and oxidation stability improves operation and extends oil change intervals

Improved viscometric properties ensure higher performance while engine is cold or hot

Environmentally friendly and do not adversely effect catalytic converters